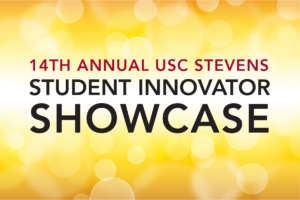 The annual USC Stevens Student Innovator Showcase provides an opportunity for USC students to present their inventions, startups and prototypes (in all disciplines) to leaders from the local venture, entrepreneur, and business community. Sponsored by the USC Stevens Center for Innovation, this flagship event offers thousands of dollars in USC-sponsored prizes to winning teams and ideas. The innovations may be anything with the potential for impact, from clean energy generation to a medical device to a technological solution for a social problem.
Due to the pandemic, the USC Stevens Student Innovator Showcase was held as a virtual event on Wednesday, November 17, 2021. You can read about the ten finalist teams that pitched live at the Nov. 17 Showcase and read our story about the award winners.
Although the Fall 2023 competition is canceled, we will be back next Fall 2024 during Trojan Family Weekend, and will provide more information in Spring 2023.