We recognize that USC researchers and innovators have unique opportunities to benefit from collaborations with corporate partners. Commercial technology firms and pharmaceutical/biotech companies, for example, may offer resources and expertise to help move developing USC technologies or research faster into the market.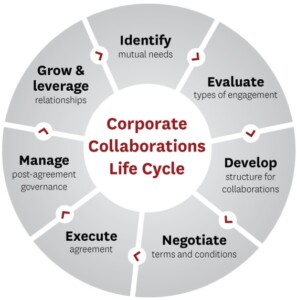 Collaborations and long-term partnerships have a different structure than licensing. The Stevens Center serves as a liaison between USC innovators and outside companies, ensuring that collaborations protect our researchers and their intellectual property in carefully structured agreements that are mutually beneficial to both USC researchers and to their industry partners.
To best serve the needs of USC researchers and ensure mutually beneficial collaborations with corporate partners, we offer a flexible and streamlined approach. The process is not one-size-fits-all as it accounts for unique circumstances and differences between types of technologies and their stage of development. In allowing us to serve USC researchers and innovators with developing and finalizing corporate collaborations, our Stevens Center team works hard to:
Facilitate and support timely interactions between corporate and academic partners.
Translate complex contract terms and conditions into strategic and operational elements for both faculty and our industry partners.
Create governance methods to establish clear roles and responsibilities, drive accountability, and work through barriers to drive successful collaborations.
Identify and pursue strategic opportunities that evolve throughout the relationship.
Improve efficiency and help ensure that our academic faculty are free to devote adequate time and energies to overseeing research activities.
To learn more about working on corporate collaborations with us, contact Jennifer Dyer, Executive Director, at dyerj@usc.edu.