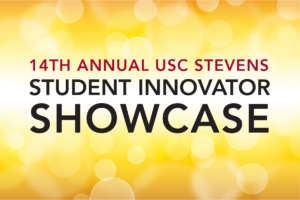 The annual USC Stevens Student Innovator Showcase provides an opportunity for USC students to present their inventions, startups and prototypes (in all disciplines) to faculty and leaders from the local venture, entrepreneur, and business community. Sponsored by the USC Stevens Center for Innovation, this flagship event offers thousands of dollars in USC-sponsored prizes to winning teams and ideas. The innovations may be anything with the potential for impact, from clean energy generation to a medical device to a technological solution for a social problem.
The date of the next USC Stevens Student Innovator Showcase is yet to be determined, but we expect it will take place October 8, 2021, during Trojan Family Weekend. This will depend on the university's pandemic guidelines in place at that time. The application deadline will be approximately one month prior to the event. We will announce the new dates on our website and social media, and in email updates to applicants.
For the most up-to-the minute information on the COVID-19 situation, please visit USC's official Coronavirus COVID-19 webpage.
More information